Kara
1867 - 1939
---
Heute fällt wieder alles nach unten!
---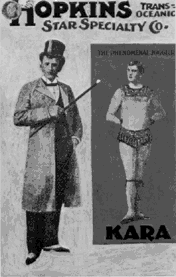 Kara, whose real name was Michael Steiner, was born on January 31st 1867 in Nuremburg, Germany. As a child he practiced juggling household objects, and when he was sixteen years old he was juggling at his parents' fried fish stall when he was spotted by theater owner August Schichtl, who started him on a performing career. At first he juggled balls, knives, bottles and torches and dressed in the standard acrobatic costume of the day, but a few years later he began to experiment with the possibilities of juggling a top hat, a cigar and a cane.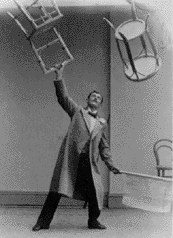 In his early twenties he met Franz Pospischil, who became his agent. Together they chose the stage name "Kara". Pospischil was able to arrange booking in the major cities of Europe, and in 1892 a tour of the USA. It was in America that Kara first performed in evening dress, and began juggling everyday objects - coins, umbrellas, crockery, cutlery, napkins, chairs, tables, newspapers, monocles, hats, eggs, candles, cigars... While Kara was not the only originator of the Gentleman Juggling style, he was certainly its greatest exponent.
He was continually developing his act, adding new tricks or comedy material. He worked with an assistant in the character of a waiter. Whenever the waiter did something wrong he would exclaim, "Heute fällt wieder alles nach unten!", "Tonight everything has gone wrong!"
His fame grew through the early years of the 20th century, and he was often fully booked years in advance. Sadly, at the outbreak of the First World War he was passing through France, and was forced to spend four years as a POW, while his French wife disowned him and absconded with his fortune. In 1918 he returned to Germany, 51 years old, penniless and not having practiced his act for four years. His colleague Salerno loaned him props so that he could work out, and within a few months tho old Kara was back.
He retired from performing in 1927, but continued to juggle for his own enjoyment until he died in 1939.
---
Here is an account of Kara's career by Dennis Soldati, which appeared in Juggler's World, September 1983.

H. M. Lorette described Kara's act for the IJA Newsletter in January 1957 and again in February 1965. This is a combination of those articles.

This article comparing Kara and Rastelli was published in the IJA Newsletter in January 1964. It is a translation from a 1939 piece in the German magazine Die Deutsche Artistik, and has a good description of Kara's relaxed manner on stage.

Here's some biographical information on Kara with quotes from Sagemüller's biography.
---
References
by Hermann Sagemüller, privately printed, Baldingen 1973. Translated into English as "Michael Kara: King of the Jugglers - Juggler to Kings". This little book should be in the library of every juggling enthusiast. A tremendous amount of research went into documenting every phase of Kara's life, and describing his act and stage character as they developed over the years. The German edition is worth having for the photographs alone. The English translation is a photocopy of a typewritten text, with no illustrations, and is intended to supplement rather than replace the German book. Both versions are available from The Juggling Arts. A second edition in both English and German is planned.
---
The Juggling Hall of Fame is maintained for the Juggling Information Service by Andrew Conway. Comments and suggestions to fame@juggling.org. Thanks to Mary Wilkins for help with research.

© 1997 Juggling Information Service. All Rights Reserved.