You will be redirected shortly.
Please update links to this page
Photos of Jewish Jugglers/ Entertainers/ Bottle Dancers
---
Under Construction, but here are a few photos of Scott Seltzer, the Webmaster of the Jewish Jugglers pages.

5 clubs during Israeli army basic training
Click here or on the image for the full picture!
7 balls
Click here or on the image for the full picture!
Torches in a toga

Click here or on the image for the full picture!
Here's one of Yaakov Goodman at Scott's wedding:

And this is Raphael Harris at Scott's wedding:
This is Lev Miles practicing at home: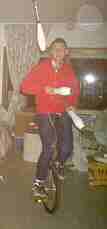 Pictures of the 1998 Israeli juggling convention


---
Contents:
Jewish Jugglers | Juggling in Biblical Times by Raphael Harris | Juggling in Post-Biblical Jewish Sources by Raphael Harris | Jewish Occasions to Juggle | Juggling Mitzvahs | Juggling Jews | Photos of Jewish Performers | Juggling in Israel | Jewish Juggling Tricks | Links to Other Sites, Juggling & Jewish | Log of Jewish Jugglers Construction
---
This site is maintained by Scott Seltzer from Jerusalem, ISRAEL. If you have anything to contribute to the Jewish Jugglers home page, please email me!

---
Jewish Jugglers / Juggling Information Service/ scott@juggler.net